Airframe Bearings
Product Announcement from Schatz Bearing Corp.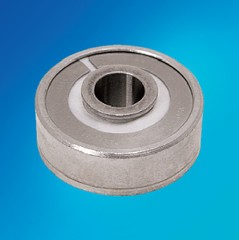 We manufacture all of our products in our ISO 9001 certified facility in Poughkeepsie, New York. We have excellent lead times in the industry.
Schatz manufactures a broad line of aircraft ball bearings used in crucial applications such as: aircraft control, aircraft gearbox applications and aircraft accessory. Many of our aircraft bearings are manufactured and approved to the applicable SAE and U.S. Government military standards, controlled by AS7949 (formerly MIL-B-7949). Our aircraft bearings are also approved to many OEM specifications.
Many of the Schatz Aircraft Control series can be manufactured with modified designs to suit application requirements.
Examples of these modifications are:
Corrosion Resistant Materials- Schatz manufactures many of these bearing series in 440C corrosion resistant steel. Additionally, many of these series can be manufactured utilizing Schatz specification EMS 138 which utilizes a high corrosion resistant and high fatigue resistant steel.
Higher Precision Level - Many of these series are offered in compliance to higher precision levels.
Low Starting Torque - Schatz can modify the seal, grease, separator, and ball complement on many of the bearings to offer a lower starting torque than the standard series offers.
Angular Contact Bearings and Duplex Sets - Schatz can manufacture some of the series in angular contact versions that can be mounted as single bearings or in pairs as a duplex set for increased axial capacity and rigidity.
Schatz supports numerous configurations from full compliment bearings for high load capacity to thin cross section series for designs that require space savings. Additionally, many of the series are manufactured in stainless steel.
Aircraft Control Series include: KP-A Series Radial Type, KP Series Radial Type, B500 Series Extra Light Torque Tube Type, B5500 Series Double Row Extra Light Torque Tube Type, KP-B, KP-BS Series Torque Tube Type, KSP, KSP-A Series Self Aligning Type, DSP Series Double Row Self-Aligning Type, DW Series, Pulley Series
Please contact Schatz Engineering Department for further assistance.
Call today to start putting the Schatz commitment to quality, performance and customer service to work for your company!
---