DispensingCell DC803, LeanCNCell, CNCell
Featured Product from Scheugenpflug, Inc.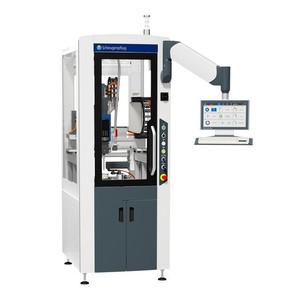 DispensingCell DC803, LeanCNCell, CNCell
Optimized for any application
Dispensing cells are the ideal solution for medium to large-sized batches and for most applications. Since
adhesive bonding
and
potting
tasks usually have specialized requirements, Scheugenpflug AG offers a
modular system
which allows users to customize their system precisely to the requirements of the respective application. However, regardless of the dispensing cell: these systems offer a high level of productivity despite the good value for the price. The effective support of process standardization worldwide and a high level of security in planning and investment through simple system expansions are also important factors in today's market.
Multifunctional Cell DispensingCell DC803
The casting of changing components, changing capacities or lack of space in production: The requirements for adhesive bonding, sealing and potting processes are becoming increasingly individual. Against this background, the ability to adapt the dispensing system efficiently and economically plays a decisive role. The new, high-performance DispensingCell DC803 is available for demanding dispensing tasks. The further development of the proven CNCell has been specially tailored to the requirements of industrial series production with short cycle times and high quantities. Its modular design and numerous equipment options allow flexible configuration and rapid adaptation to changed processes and series sizes.
The DispensingCell DC803 is part of our new system solution.
Highest performance for series production
Flexible configuration in terms of equipment features and degree of automation
High usability thanks to intelligent machine control unit
Numerous options for quality assurance and process monitoring
Wide range of applications
Precise contour encapsulation thanks to high-performance axis system
Modular design enables demand-oriented system planning
Can be additionally equipped with handling systems or joining technology
Simple and intuitive operation thanks to the UViS5 operating concept
You can find the technical data in our flyer.
=========================================================================
LeanCNCell
Focusing on small and medium-sized batch production
The LeanCNCell is specially designed to handle dispensing and potting of small to medium-sized batches. It combines all the advantages of the CNC system plus a high-precision axis controller with attractive performance for the price. This makes it particularly suited for applying seals or conformal coating of electronic assemblies and housings with 1D, 2D or 3D contours. A wide selection of dispensers is available for use with the LeanCNCell. It represents an alternative to the DesktopCell wherever other model sizes or process monitoring capabilities (scales, needle status measurement, heater, etc.) are required.
Full CNC functionality
High-precision axles
Attractive price-performance ratio
Precisely dispensing contours with XYZ axis system
Several quality control options
Easy access via sefety light curtain
User-friendly control with UViSneo visualization
Small to medium batch sizes
=========================================================================
CNCell
Where high flexibility for medium and large batch production is required, the CNCell is the system of choice. This multi-functional cell is based on standardized modules and it is tailored to customer specifications. The wide range of available dimensions, production processes, parts handling options and material flow or machine control units allows for a completely customizable set-up of a system tailored to specific needs. All modules perfectly match, so that they can be easily swapped or used together. The equipment can be used almost immediately thanks to the system's scalable, modular design, which also allows for short planning and implementation times as well as quick adaptation to changes in process and batch size. The CNCell offers superior performance and high-level planning and investment security, and effectively supports the standardization of processes worldwide.
High axis speeds allow for short cycle times
Flexible configuration and diverse possibilities for expansion
Highly effective through automation option
Quality control with options to monitor processes
Wide range of applications
| | | | | | |
| --- | --- | --- | --- | --- | --- |
| Matrix | ++ | | Axis speed | ++ | |
| Bead | ++ | | Movement range | ++ | |
| Single-nozzle | ++ | | Integration capable | ++ | |
| Multi-nozzle | + | | Upgradeable | ++ | |
| Autom. weighing | ++ | | Stand-alone | ++ | |
| Needle status measurement | ++ | | | | |
Precisely dispensing contours with XYZ axis system
Modular construction allows for different degrees of automation
Variable system equipment
Comprehensive process monitoring and quality control options
Easy access via safety light curtain or door systems
User-friendly operation through UViSneo visualization
Pick & Place
Bolting
Joining
Assembly
Labeling