Dos P Volumetric Piston Dispensers
Featured Product from Scheugenpflug, Inc.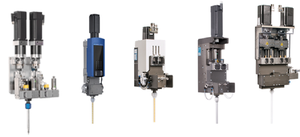 The Dos P016 / 050 / 100 / 300 / TCA piston dispensers are high-precision volumetric dispensers designed to process 1C and 2C materials and cover a wide range of applications. Precisely dimensioned dispensing cylinders provide the ability to obtain reproducible material volumes. When 2C materials are used, the mixing ratio is kept constant by simultaneously discharging both cylinders into the shared mixing tube, ensuring the highest level of process reliability. At the same time, potting media that are sensitive to pressure, moisture or shearing are fed carefully through the dispenser, eliminating potential worry of changes to the material. Users also benefit from their fast and easy maintenance, long service life and significantly reduced servicing costs. Thanks to optional features such as valve monitoring, mixing tube heating and dispenser heating, these systems can be adapted flexibly to any requirement.
Discover the next generation of our proven piston dispensers:
the DosP DP803.
Dispensing accuracy does not depend on temperature, pressure or viscosity
Constant mixing ratio at all times due to parallel evacuation of dispensing cylinders
Wide spectrum of applications (material and task)
Simultaneous discharge of cylinders through common lifting mechanism allows for homogenous mixing ratio
Sensor monitoring of inlet and outlet valves as well as cylinder filling
Temperature control with mixing tube heater (optional)
Camera for monitoring the dispensing needle (optional)