New, high-performance DispensingCell
Featured Product from Scheugenpflug, Inc.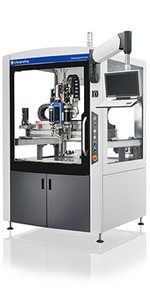 Multifunctional Cell DispensingCell DC803
Scale UP your performance!
The casting of changing components, changing capacities or lack of space in production: The requirements for adhesive bonding, sealing and potting processes are becoming increasingly individual. Against this background, the ability to adapt the dispensing system efficiently and economically plays a decisive role. The new, high-performance DispensingCell DC803 is available for demanding dispensing tasks. The further development of the proven CNCell has been specially tailored to the requirements of industrial series production with short cycle times and high quantities. Its modular design and numerous equipment options allow flexible configuration and rapid adaptation to changed processes and series sizes.