Sealing enclosures, engines, gearboxes and sensors
Featured Product from Scheugenpflug, Inc.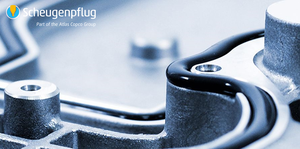 Liquid seals are frequently used in lighting engineering, the electrical and electronics industry and the electromobility sector. In the automotive industry they are used for such purposes as sealing enclosures, engines, gearboxes and sensors. In this case, however, the focus increasingly shifts from traditional sealing to sealing with an additional adhesive bonding function.
When dispensing liquid seals, it is important to apply the material precisely and with repeatable accuracy along the intended seal contour. #Scheugenpflug offers a wide range of CNC-capable #dispensing and potting cells that can be flexibly adapted to existing production conditions.
Click here to learn more.

Play Sealing enclosures, engines, gearboxes and sensors Video