Standard Dispensing System Or Custom Solution
Featured Product from Scheugenpflug, Inc.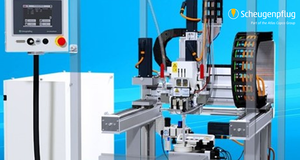 It's hard to imagine life today without adhesive bonding, dispensing and potting systems. A wide range of products and devices, ranging from LED lights to on-board computers used in aerospace, would quickly fail at their tasks without the availability of efficient, reliable adhesive bonding and potting processes. But every potting task is different: every workpiece and every potting medium has its own requirements for the dispensing technology applied.
Scheugenpflug machinery and systems are therefore based on a cutting-edge modular system from which users can put together the right processes tailored to suit their needs. We offer the right system for any requirement and help you turn your adhesive bonding, dispensing and potting task into an economically efficient process.