Intelligent Vacuum Components - Industry 4.0
Featured Product from Schmalz Inc.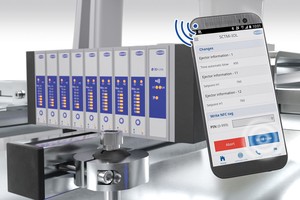 The intelligent vacuum components from Schmalz gather data from the process and turn it into valuable insights. This transparency offers you advantages in all phases of the product life cycle: from the fast integration of the components through the efficient operation to the complete monitoring of the process. Early fault detection and timely, predictable maintenance ensure maximum system availability.
Industry 4.0 thrives on intelligent devices that communicate with each other in the digital factory. In the Schmalz Connect product range, Schmalz bundles a whole range of such smart field devices.
The state-of-the-art vacuum components are quickly integrated into the application environment via interfaces such as IO-Link, Ethernet or NFC. They continually gather and interpret energy and condition data from the process and make it available at the control panel, on the operator's smartphone and in the cloud. Thus a seamless monitoring of the entire process becomes possible, enabling predictive maintenance to prevent downtime and optimize energy consumption.