Vacuum Terminal as a Central Control Unit
Featured Product from Schmalz Inc.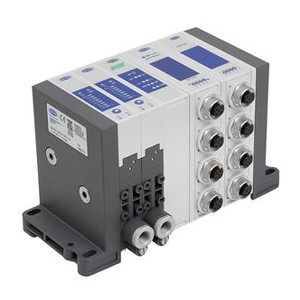 On the one hand, J. Schmalz GmbH has added a new vacuum generator to its successful compact terminal SCTSi family. On the other, they were now able to integrate modules into the Ethernet version that streamline communication with the higher-level controller (PLC) and simplify installation. As a result, the terminal serves as the central control unit for vacuum gripping systems.
One of the modules is an IO-Link master. Other intelligent field devices with an IO-Link interface – sensors and actuators from Schmalz or other providers – can be centrally connected to this master for direct communication with the PLC. This cuts costs, reduces the installation space needed, and makes it easier to design the system. The same applies to the digital input (DI) module: it eliminates the need for additional I/O modules. This allows users to connect other digital field devices, such as sensors, via digital inputs. The module receives sensor signals and transfers these to the higher-level controller. In this way, SCTSi terminal is transformed into an all-in-one solution for the digital manufacturing environment.
The newly released ejectors with a bistable impulse valve (IMP) ensure a high degree of process reliability, even when actuator voltage fails. This module is available for both the Ethernet and the IO-Link versions of the compact terminal SCTSi.