Workbench for Turning Sheet Materials
Featured Product from Schmalz Inc.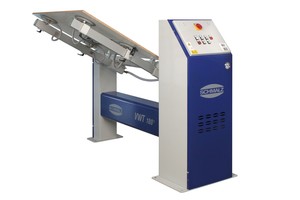 For Processing large format panel material on the top and bottom without re-clamping the workpiece. Unhandy workpieces can be turned by 180 degrees within 10 seconds. For turning flat, smooth workpieces, e.g. panels made of wood or plastic
Maximum load: 150 kg
Slewing angle W: 180 °
Number of cups: 4
Suct. cups: Suction plate SPU
Diameter Ds: 210 mm
Dry-running pump EVE-TR
Suction rate: 16 m³/h
Weight: 500 kg
Schmalz vacuum components and gripping systems enable significant increases in productivity for automated processes. Whether in machine construction or in the robotics industry, Schmalz customers benefit from expert systems consulting and groundbreaking, innovative solutions in all areas of automation technology. The variety of workpieces handled by vacuum ranges from fragile small parts, such as electronic chip or solar wafers, to furniture parts or heavy steel sheets.