General Machine Safety Training
Service Detail from Schmersal Inc.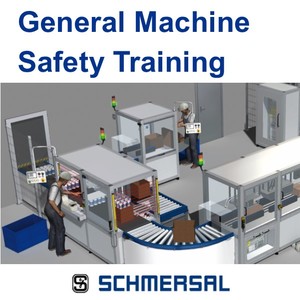 Anyone responsible for the design, operation, or maintenance of machines needs an understanding of legal requirements, risk assessment, types of hazards, the several levels of circuit design, and available types of safety equipment and how they all come together for a complete safety solution.
Let Schmersal help you take that step into the world of machine safety with this one day course.
Course outline:
Understanding Regulatory Standards
Risk Assessment Principles
Hazard Types
Risk Reduction
Safeguarding Principles
Guarding Principles
Fixed and Movable Guards
Reaching and Guard Opening Design
Types of Safety Interlock Devices
Emergency Stop Devices
Stop Categories
Mats, Edges and Bumpers
Safety Light Curtains, Scanners, Beams
Special Function of Optical Devices
Two Hand Control
Enabling Devices
Safety Distance Calculations
Mechanically Linked Relays/Contactors
Safety Monitoring Relays and Controllers
Understanding Safety Circuit Design
Fault Tolerance and Exclusions
Fluid Power Safety
This 7 hour course will be presented by a TÜV Certified Functional Safety Engineer for Machinery from our Engineering Services Group. Their experience will bring the expertise that you are looking for in a machine safeguarding specialist.

Our Safety Training Courses are offered in various locations around the country throughout the year; Please see our Schedule page for upcoming dates. We can also tailor the content and duration to focus specifically on a customer's needs for in-house presentation.

For more information on this Safety Training course or any other services provided by our Engineering Services Group, please contact:
Michael DeRosier | Schmersal USA Engineering Services | 914-500-9995 | mderosier@schmersal.com