AS-I Integrated Safety Solutions
Featured Product from Schmersal Inc.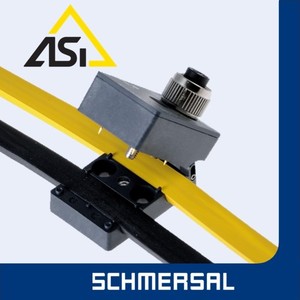 AS-Interface Safety at Work is a safety bus system based upon the open standard of AS-International. It is a simple yet flexible solution to quickly, efficiently and cost-effectively integrate a vast safety system.
All components are tied into a central, yellow cable that carries power and system signals. All connections are made via insulation displacement connections (IDC), to avoid the time of splicing and wiring components. Once set up, the system can be modified and extended at any time, adding and configuring new components with ease.

The system can be wired to all commonly available field bus systems and can be operated as a separate or integrated safety solution.
AS-i Safety as basis
A wide variety of our safety switchgear is available in versions with integrated AS-i Safety Interface:
Keyed interlocks
Solenoid interlocks
Safety sensors
Emergency stop buttons
Control panels
Safety light curtains
If the desired safety switchgear is not available with integrated AS-i Safety interface, it can be easily integrated into the AS-i Safety circuit through an external input module.