AZ16: The Standard Safety Interlock Switch
Featured Product from Schmersal Inc.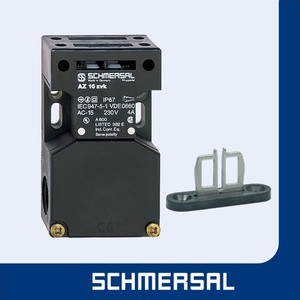 The AZ16 Series is in a class by itself ... providing many design innovations to protect workers from injury. The Series AZ15/16 is a safety interlock switch with separate actuator key designed for use with movable machine guards/access gates which must be closed for operator safety. Their positive-opening NC contacts provide a significantly higher level of safety than conventional spring-driven switches whose contacts can weld or stick shut.
The IP67 rated thermoplastic housing makes them ideal for interlocking safety guards in hostile environments. It features a non-removable actuating head and highly tamper-resistant actuating mechanism which is difficult to defeat with simple tools, tape, bent wires or other readily available means. This rugged, tamper-resistant design ensures safe, reliable long term performance and reduces liability exposure.
The AZ16 has a wide selection of options and accessories such as LED's, gold contacts, flexure-mounted actuating keys and universal mounting kit. These enable easy installation and effectively address a wide variety of machine guard interlocking applications – without compromising operator access/productivity. That's why the AZ16 is one of the best selling safety switches in the world.
Features at a glance:
IP67 rated thermoplastic enclosure tolerates hostile environments
Double-insulated
Large wiring compartment
4 key entries for mounting flexibility
A wide variety of actuator options
Long mechanical life
High level of contact reliability with low voltages and currents
3 cable entries or prewired connector
Wide selection of accessories to meet diverse application requirements
Individually coded keyed version available (AZ16Zi)
AS-I compatible version available (AZ16 AS)
EX rated intrinsically safe version available (EX AZ16)
Electronic sensor (CSS16) or coded magnet (BNS16) versions available