Coded Magnet Sensor BNS36
Featured Product from Schmersal Inc.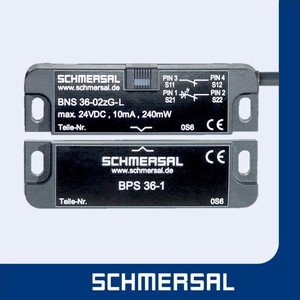 The Series BNS36 coded-magnet sensors are designed for use as a safety interlock switch on movable machine guards/articulating robot arms. Each sensor set consists of a multiple reed switch unit and a coded-magnet actuator. The reed switches, wired in series, will only close in the presence of their matched magnetic field array.
Operation
The reed switch assembly is typically mounted to a stationary portion of a guard structure, with the coded-magnet assembly mounted to the movable element of the machine guard. When the guard is closed, and the matched magnetic field aligns with the reed switch unit, the switches will close. When the guard is open, or the required magnetic-field array is not properly aligned with the reed switch assembly, the sensor output will remain "off."
Typical Applications
The BNS36 switch and actuator assemblies are sealed to IP67 (submersable) standards, making them ideal for use on movable machine guards in hostile environments. Typical applications include food processing equipment, chemical processing equipment, woodworking machinery, packaging machinery, and articulating robot arm rest position sensing.
Features & Benefits
Compact size … ideal for limited space applications.
Sealed for submersibility … assures long-term reliability in the most hostile environments.
Tamper-resistant … cannot be bypassed with simple magnets.
Rugged, corrosion-resistant housing … tolerates most industrial environments.
Integral LED status indicators … facilitate easy installation and provide visual indication of switch status.
Shock and vibration tolerant … designed to withstand mechanical abuse.
Satisfy CE & fail-to-safe requirements … when used with Series AES safety controllers.