Compact Hinged Safety Switch
Featured Product from Schmersal Inc.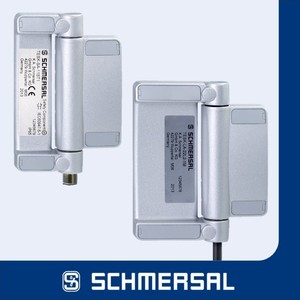 We pioneered the safety hinge switch in 1996 because we found safety hinge switches offer pivotal benefits:
- Simple to integrate into the machine because they replace normal hinges.
- No worry over misalignment of the guard door and frame.
- High protection against tampering because the safety contacts are inside the hinge.
- Minimal mechanical wear
Today we offer the latest update on the safety hinge switch with the TESK. These safety hinge switches are available with an adjustable switching angle to allow the installer to set their own specific angle over the entire 270° rotation range, or with a factory preset switching angle for inside mounting or surface mounting. The adjustable model comes with a special tool that adjusts the switching angle and provides the cap for the adjustment port to prevent operators from readjusting the switching point.
The TESK is easy to install on a wide range of standard aluminum extruded profile frame sizes and other guard styles. It is even available with an extended hinge half with an extra set of mounting holes suitable to secure the hinge to Plexiglas or plastic doors. Models are provided with either a quick connector or prewired cable (1, 3, 5 or 10 meters), available from the top or bottom of the hinge. It is available with 2, 3, or 4 contacts, in a variety of configurations.
Constructed from die cast zinc and with an IP65 rating to resist dust and water, these hinge switches are ideal for interlocking hinged safety guards in industrial environments. We also offer additional matching hinges (without switch) for both the standard and extended hinge types.