Compact coded magnet sensor BNS260
Featured Product from Schmersal Inc.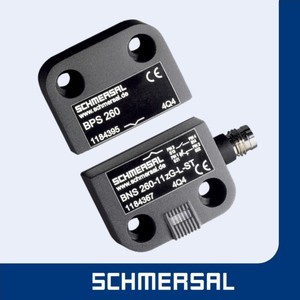 The Series BNS260 coded-magnet sensors are designed for use as a safety interlock switch on movable machine guards and articulating robot arms. Each sensor consists of multiple reed switches wired in series which will only close in the presence of the magnetic field array of the matching actuator. The coded-magnet system is tamper resistant and cannot be bypassed with simple magnets.
This non-contact operating principle limits mechanical wear and tolerates misalignments up to +/- 5 mm perpendicularly, +/- 3.5 mm laterally. The IP67 rated, corrosion-resistant thermoplastic housing tolerates the most hostile environments and is designed to withstand mechanical abuse caused by machine shock and vibration.
The switch is available with an M8 quick connect or prewired with 1, 3, 5, or 10 meters of cable, with versions for left- or right- hinged guards. Other options include 1 NO & 1 NC or 2 NC safety contacts and an additional 1 NC auxiliary contact. An optional LED facilitates easy installation and provides visual indication of switch status.
Typical applications include food processing equipment, chemical processing equipment, woodworking machinery, packaging machinery, and articulating robot arms (rest position sensing). Because of its compact size, it is ideal for applications with limited space.
The Series BNS260 satisfies CE & fail-to-safe requirements when used with our Series AES safety controllers.