IP69K Stainless Steel Electronic Safety Sensor
Featured Product from Schmersal Inc.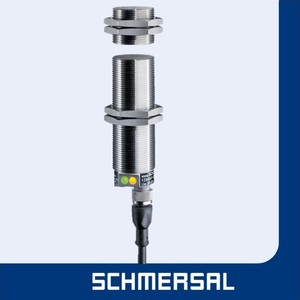 The CSS30S is a non-contact, electronic safety sensor designed to monitor the closed position of hinged, sliding or removable safety guards with the aid of a coded actuator. The sensor uses Schmersal's Pulse Echo technology to detect its target actuator and determine that the guard is closed. This non-contact design limits mechanical wear on the switch and allows for toleration of guard misalignments.
The CSS30S features an M30 threaded Stainless steel housing which is highly resistant to corrosion and chemical agents found in aggressive cleaning agents. The housing is sealed to protection class IP69K standards, allowing it to withstand high temperature and high pressure wash down conditions. Due to these features, the CSS 30S can be used in many applications of the food-processing industry as well as in the chemical and the pharmaceutical industry or anywhere stringent hygienic requirements have to be met.
Like all our electronic safety switches, the CSS30S provides continuous internal function tests and monitors the safety outputs. This allows multiple units, such as the MZM 100, AZM 201, AZM300, or AZM400 interlocks and the CSS or RSS safety sensors, to be wired in series while continuing to fulfill the requirements of SIL 3 to IEC 61508, PLe to EN ISO 13849.