Key Transfer Guard Locking System
Featured Product from Schmersal Inc.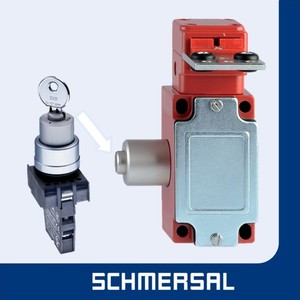 With the SHGV-system, the trapped key determines whether the guard door can be opened or not. In the initial state, the trapped key is in a key-selector-switch which is usually located in a central control console where the stop function of the machine is. The key can only be removed from there when the machine is in the safe operating mode. The operator can then take the key from the console selector switch and insert it into the lock barrel of the guard door to open it. The key can only be removed from this lock barrel once safety door is closed and locked again. The machine or the hazardous movement can be restarted once the key is back in the selector-switch at the central console.
If the transfer time between making a selection with the key-selector-switch (removal of the key) and the unlocking of the protection equipment is insufficient, then a solenoid locking key-selector switch unit (SVE) may be required. The SVE Interlock holds keys until a hazardous machine motion has come to a stop. It is available with 1, 2, or 3 separate control keys.
Multiple guard doors can be controlled with a SVM key distribution station. The control key remains trapped as long as any secondary keys are removed / guard door are open. SVM stations are available with 6 or 10 secondary keys, on a stainless steel plate for flush mounting or a plastic box for surface mounting.
The SHGV series also has a version with a second lock barrel which blocks the actuation of the first lock barrel, if an operator needs to enter a space and needs protection against the machine being started unintentionally by third parties.
The SHGV key transfer system is used mainly in more complex manufacturing systems and equipment. It is especially suitable for the protection of distributed maintenance and service doors that are rarely used, or in areas where running wires from control boxes to guard doors is not feasible. Further areas of application are installations installed in harsh environmental conditions and in areas with high ambient temperatures, not forgetting the potentially explosive installations in the chemical and process engineering.