Machine safety training from Schmersal tec.nicum
Service Detail from Schmersal Inc.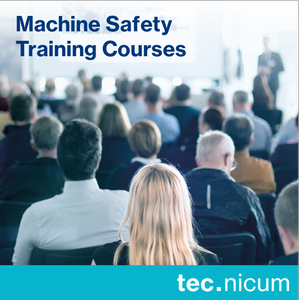 Machine safety can be challenging and complex for both machine builder and end user. Our series of safety training courses are designed to educate on machine guarding practices and principles, consistent with current national and international machine safety standards. The machine safety training courses offered by Schmersal tec.nicum provide the necessary skill sets to our customers in order to make them more fluent in machine safety. This knowledge and know-how are a foundation upon which to create a safer working environment.
We can tailor the content and duration of sessions to focus specifically on a customer's needs for in-house presentation.
Here are the courses currently offered:
General Machine Safety Training
Anyone responsible for the design, operation, or maintenance of machines needs an understanding of safety systems. This course covers legal requirements, risk assessment, types of hazards, the several levels of circuit design, and available types of safety equipment and how they all come together for a complete safety solution.
Download the course flyer
ISO13849 - Understanding and Implementation
ISO13849 is a global harmonized standard relating to the risk assessment, design, and performance of safety control systems on machinery. This standard is accepted worldwide as the principle safety control design guideline and it represents a major change in the philosophy of hazard analysis and design of safety related parts of machine control systems.
Download the course flyer
Safety Circuits and Wiring
Learn the theory of safety related control systems and its practical application in this hands-on course. Students will use training boards to wire a mix of components in order to meet specific safety control requirements.
Download the course flyer
Risk Assessment - Understanding and Conducting
This two day course helps you understanding machine hazards and develops your ability to qualify and quantify them. This class works with your team to develop a version of a tool that you can use to perform machine safety assessments. Identify the hazards, while presenting ideas on how to remedy those hazards with proper guarding measures is key to having a successful machine safety program.
Download the course flyer
CE Conformity Assessment Training
Machine manufacturers have certain legal requirements to meet when providing machines for the European market. This five day (35 hours) course provides background knowledge in order to be able to pass through a CE conformity assessment procedure as a manufacturer, in accordance with the Machinery Directive (MRL 2006/42/EC).
Download the course flyer