Magnetic Lock With Electronic Safety Sensor
Featured Product from Schmersal Inc.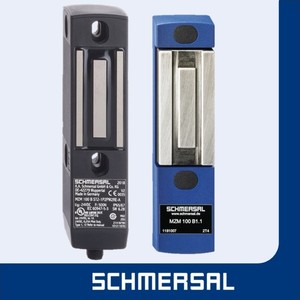 The MZM100 from Schmersal consists of a magnetic-latching interlock and actuator unit. An electromagnet is utilized to generate a 500 N holding force. An integrated pulse-echo based sensor detects and monitors the position of the safety guard. This sensor technology permits an offset between the actuator and interlock of ±5 mm vertical and ±3 mm horizontal.
The MZM100 magnetic-latching interlock is a dual channel design with two short-circuit proof, safe PNP outputs, each of which can switch up to 250 mA. The holding force is perrmanently electronically measured and monitored. If the holding force drops below 500 N, the safety outputs are not enabled, recognizing a dirty interlock.
With continuous internal function tests, the monitoring of the safety outputs and the use of door detection sensors, MZM 100 magnetic-latching interlocks can be wired in series without detriment to the control category. Series wired MZM 100s continue to fulfill the requirements of Control Category 4 according to EN 954-1 (without the need of a second switch).
Typical Applications
The MZM 100 is intended for use as a safety interlock switch on movable machine guards which must not be opened until dangerous conditions, which may exist after the removal of power, have abated. Such conditions are flywheel overrun, spindle momentum, unstable rest positions, etc. Typical applications are textile machines, stamping machines, food processing equipment, metal working equipment, wood working and packaging machines.
Features & Benefits
Magnetic-latching design … controls access to hazardous areas until safe conditions exist (100 lbs. locked holding force).
Forced-closed operating principle … no mechanical wear due to non-contact design.
Integral LED diagnostics … indicates operating states
Integral self-monitoring and door detection sensors …satisfy requirements of Safety Control Category 4.
Designed for "daisy chaining"…up to 200 m.
Automatic magnetic latch (35 N) …no mechanical latching required ("r" version only).
Smooth surfaces allow for easy cleaning … ideal where high hygienic standards need to be maintained.
Dual PNP 250 mA safety outputs …for application versatility.