Programmable Safety Controller PSC1
Featured Product from Schmersal Inc.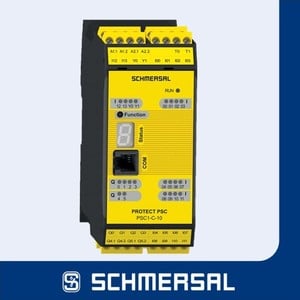 The PSC1 is a modular and freely programmable compact safety controller for safe signal processing of safety switchgear. The system has several distinct features:
Universal communication interface
The PSC1 can communicate with popular field-bus systems such as ProfiNet, ProfiBus, EtherCAT, EtherNetIP, CanOpen.
Serial Diagnostic gateway
Up to 31 Schmersal electronic devices with Serial Diagnostics can be connected and evaluated, with their extended diagnostic data sent via the PSC1 universal communication interface to a field-bus system.
Memory card
Written programs can be downloaded to the PSC1 module either by computer interface or by memory card option on available modules. The memory card option allows for quick programming of mutiple identical systems.
Safe Master to Master communication
Safe cross-communication is used to combine safety controllers, to safely exchange data via local Ethernet SMMC communication. In a complete system, safe signals from emergency stop or signals from interlocks can be communicated using the safe cross-communication.
Safe remote IO communication
For the decentral application structure the PSC1-E-37-14DI-4DO-2RO-RIO remote I/O expansion module is available. The local communication is realized via the Ethernet SDDC protocol.
Safe drive monitoring
Many safety features are supported:
Safe shut-down:
Safe Torque OFF (STO)
Safe Break Control (SBC)
Safe stopping:
Safe Operating Stop (SOS)
Safe Stop 1 (SS1)
Safe Stop 2 (SS2)
Safe monitoring:
Safe Speed Monitor (SSM)
Safe Cam (SCA)
Safe movement:
Safely-Limited Speed (SLS)
Safe Speed Range (SSR)
Safe Direction (SDI)
Safely-Limited Acceleration (SLA)
Safe Acceleration Range (SAR)
Safe positioning:
Safely-Limited Position (SLP)
Safely-Limited Increment (SLI)
Safely Emergency Limit (SEL)