RFID Electronic Safety Sensor in a Popular Housing
Featured Product from Schmersal Inc.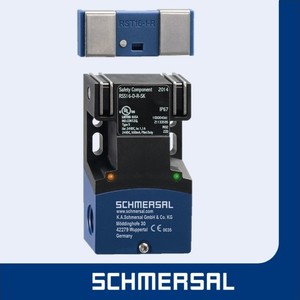 The RSS16 uses radio frequency identification (RFID) to detect the actuator and indicate a closed guard. This non-contact operating principle limits wear on components and tolerates misalignments.
The RSS16 is available in a magnetic latching version with special actuator. The sensor has two magnets integrated into the sensor head. The special actuator (RST-1-R) is an assembly of a mounting plate and stainless steel anchor plates with integrated elastomer damping elements. This allows the magnetic latching version of the RSS16 to be used as a door stop for small to medium sized guard doors. When actuated from front (label side) or back the latching force is approx. 9 lbs (40 N). Latching force for the top side is approx. 13 lbs (60 N).
Optional individual coding makes it difficult to bypass the RSS16: The basic version of the sensor responds to any RSS16 target actuator; The "I1" version only accepts the coded ID number of the specific target actuator which is taught in during the first start-up; The "I2" version allows the teach-in process to be repeated, allowing replacement of a lost or damaged actuator.
The RSS16 also features all of the diagnostic advantages of our electronic safety sensors. With continuous internal function tests and monitoring of the safety outputs, RSS16 sensors can be wired in series without detriment to the safety level. The RSS16 comes standard with diagnostic LED's on the front of the sensor housing to indicate various errors, such as mis-alignment, and door open/closed signaling. For more advanced diagnostic indication the RSS 16-SD (serial diagnostic) version is available.
There are several wiring options for the RSS16. It is available with a prewired M12 quick connector from the bottom. The screw terminal or cage clamp versions have 4 conduit openings, to allow for mounting flexibility.
The RSS16 sensors meet stringent North American and European Standards, are cULus and CE approved, and can be used in the highest level of machine safety circuits, PLe to ISO13849-1 and SIL 3 to IEC61508.