Safety Controllers and relays
Featured Product from Schmersal Inc.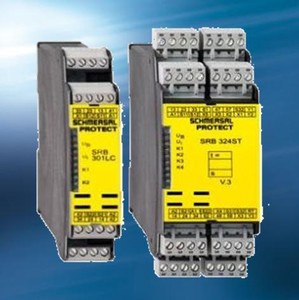 Safety controllers are designed to increase the level of safety in machine guarding and/or E-stop control circuits. They feature redundant, dual channel, cross monitoring logic circuits. These continuously check for, and detect, faults in the system's safety circuit components and interconnection wiring. They are available in both conventional electro-mechanical relay based and unique microprocessor based models.
Safety controllers also detect when a machine guard interlock/E-stop switch is actuated and depending on the model, are capable of detecting the following types of potential safety circuit faults:
Welded interlock/E-stop switch contacts.
Open circuits, short circuits or ground faults
Faults in the modules safety relays
Faults in the modules monitoring circuits
Inadequate supply voltage
Welded/stuck contacts in the controlled output motor contactor/control relay
Capacitive/inductive interference on controller inputs
Specialized versions are also available for double reset, delay timing, or diferentiated outputs. The program is extended with a selection of input and output expanders.