Safety Edge System
Featured Product from Schmersal Inc.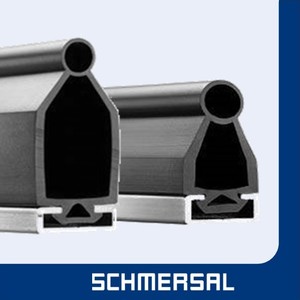 Schmersal presents the Series SE Optical Safety Edge, designed to safeguard crushing or shearing points on guard doors, elevating platforms, loading ramps, or other mobile equipment.
A transmitter and receiver pair passes an infra-red beam through a highly reflective rubber profile. Depressing or deforming the profile interrupts or weakens the beam, thus signaling to stop the hazardous movement.
The series SE safety edge system consists of:
rugged, tear resistant rubber profile
aluminum mounting rail
infra-red transmitter and receiver set
safety controller
installation accessories
Safety Edge system components can be quickly and easily adjusted to custom length and assembled without special skills or use of adhesives. The rubber profiles are available in 40 mm and 70 mm heights and several precut lengths.
The system meets the requirements of safety control category 1, 3, or 4 (EN 954-1), or Performance Level "c", "d", or "e", depending upon the choice of the several available safety controllers.