Schmersal tec.nicum offers engineering services
Service Detail from Schmersal Inc.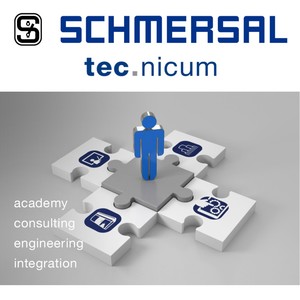 Schmersal tec.nicum offers product- and manufacturer-neutral consultation on important matters relating to machine safety and work protection. Our TÜV Certified Functional Safety Engineers for Machinery can plan and realize complex solutions for safety around the world in close collaboration with clients.
The range of services offered by tec.nicum cover four segments:
Academy
In the complex area of machine safety, it is important to stay ahead of the game. To do this, we offer a variety of opportunities through our tec.nicum academy: With a comprehensive range of training courses on numerous topics, including General Machine Safety, ISO13849, Safety Circuits and Wiring, and Understanding and Conducting Risk Assessments; with customer specific in-house training seminars; and webinars.
Technical
With regard to technical support, our experts provide safety appraisals and check conformity with applicable legislation and standards of machine safety and work protection. From the results of these investigations, they derive manufacturer-neutral recommendations for action and corrective measures with the aim of configuring the systems in accordance with the relevant directives. All the results of the investigations are fed into a comprehensive final report.
Engineering
tec.nicum engineering supports the client in the development of new machines and systems or the modification of existing machines and systems so that, even from the projection phase, machine safety is implemented as efficiently as possible. Specialists in this area accompany the whole process, from initial planning talks to the definition of requisite safety elements to safety testing and inspection of the overall installation as well as handover of the complete project documentation.
Integration
The experts at tec.nicum have built up extensive experience from projects in industries such as the packaging, food processing, automotive, construction, paper manufacture, metal processing, chemicals and pharmaceuticals. They install safety switchgear and sensors and also take account of special features, such as explosive areas. Furthermore, they can assit in the parametrization, programming and installation of complex components such as optoelectronic safety products and safety controllers.
Learn more about the engineering services offered by Schmersal tec.nicum on our website, or download our brochure.