Series connections for electronic safety devices
Featured Product from Schmersal Inc.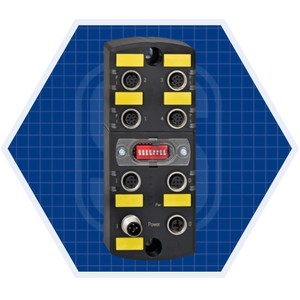 The PFB is a passive field box used to series connect multiple electronic sensors and electronic locking devices. The fused M12 plug and play configuration of the field box does not reduce the high safety rating of PLe to ISO 13849 and SIL3 to IEC 61508 as offered by the series connection of the electronic RFID and Pulse-Echo Schmersal devices.
For conventional diagnostic devices, one I/O 8-pole cable per PFB box is brought back to the control panel which will provide the signals for the safety outputs and each individual device's diagnostic signal. For serial diagnostic devices only one I/O 8-pole cable in total will be brought to the control panel to provide the signals of the safety outputs and the individual detailed device statuses offered with the serial diagnostic communication.
Dipswitches allow for easy configurations based on number of devices connected and the location within the series chain the field box is located. LEDs at each M12 connector provide a quick visual indication of the basic switch status.
The PFB is IP67 rated and can easily by mounted via two M6 screws allowing it be installed at various positions on the machine itself.