Solenoid-Latching Safety Interlock Switch
Featured Product from Schmersal Inc.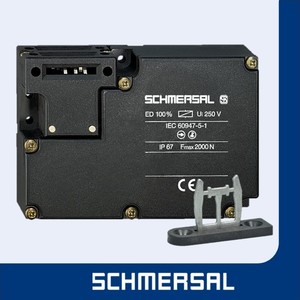 The AZM161 Series is designed for machines/work cells where access to a hazardous work area must be controlled until safe conditions exist. Their solenoid-latching feature permits locking a machine guard until dangerous conditions, which may exist immediately after removal of power, have abated. Solenoid-latching may be controlled by a time delay, motion detector, position sensor or other suitable component.
The AZM161 consists of an electromechanical safety interlock switch and a separate actuator key. The switch design is highly tamper-resistant and difficult to defeat with common tools. It features four optional key entry locations to provide installation flexibility. The rugged, IP67 rated housing tolerates hostile environments.
The solenoid is available in power-to-lock and power-to-unlock (spring locked) variations. In case of power failure, power to unlock versions have several solenoid by-pass release options, including an integrated release lever or a separate triangular by-pass key. There is also a wide selection of other accessories to meet diverse application requirements.
Meets rigid safety agency standards UL, CSA, CE, IEC and BG.