Two Hand Control
Featured Product from Schmersal Inc.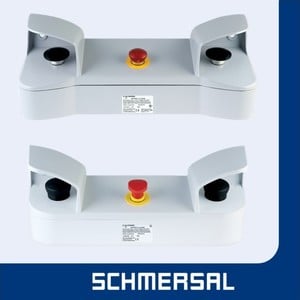 Two-hand control consoles are designed to require machine operators to use both hands to initiate a machine control action. Simultaneous operation of the wisely separated control buttons is required to initiate the machine cycle and the control buttons must remain actuated to complete the machine cycle. Thus these control consoles insure that the operator's hands are kept away from the hazardous area of a machine during operation.
Two-hand control consoles are used as protective devices in setting up and operating single-stroke equipment, and other applications where it is desired to keep both of the operator's hands safe from a hazardous area during machine operation. Applications are typically found in the metal working, rubber, plastics and chemical industries as well as in semi-automatic assembly equipment.
Schmersal offers two models: The SEPK model features a heavy duty plastic console. The SEPG model features a die-cast aluminum console with ergonomically-designed shelves to support hands during actuation.
Both panels are mounted with two black pushbuttons, with guard hoods over these operating elements which prevent operation using only one hand or by elbows, stomach, hips, thighs, or knees. In addition, each is equipped with a centrally mounted red E-stop mushroom pushbutton to facilitate emergency stoppage. Units are available with a wide choice of options and accessories, such as adjustable stands and auxiliary control buttons.