ZQ900 Emergency Cable-Pull Switch
Featured Product from Schmersal Inc.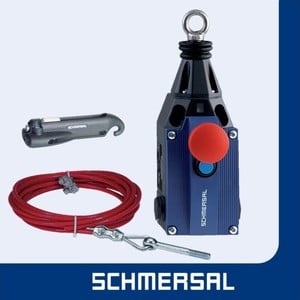 The ZQ900 is designed to provide continuous emergency stop control along exposed areas of machinery and conveyors which present hazards to operator/maintenance personnel. Unlike E-Stop pushbuttons, emergency cable-pull systems can be actuated at any point along the "trip wire".
The unit features a double-break contact block offering a choice of five contact variations which change state when the cable is pulled or goes slack. Thus the switch can be actuated if an operator falls into, is pulled into, or leans on the trip wire.
In addition the unit features an optional integrated E-Stop pushbutton, a position indicator for easier installation, a button reset, three cable entries, and an optional signaling lamp.
The unit is capable of spanning lengths of up to 50 meters. Its rugged, metal housing and watertight design (IP 65) make it ideal in hostile environments.
Features & Benefits
Rugged, corrosion-resistant housing … tolerates hostile environments.
Positive-break" NC contacts … assures circuit interruption upon pulling of trip-wire.
Push/pull operation … operates if trip-wire is pulled or goes slack.
Integrated emergency-stop button … assures complete emergency stop.
Watertight design … meets IP65 environmental requirements.
Continuous E-stop protection … for supported spans up to 164 feet (50m).
Visual position indicator … for ease of installation.
Up to four contacts in a compact housing … available in five contact configurations.
Meets rigid safety standards … EN 418, UL/CSA & BG pending.
Mounting accessories … ease and extend installation.
Operation
When the trip-wire is pulled, the positive-opening NC contact(s) are forced to open via a direct mechanical linkage with the actuating shaft … resulting in machine stoppage.
If the trip-wire goes slack (e.g. breaks or is cut) the NC contact(s) opens … also resulting in equipment stoppage.
The integral reset mechanism assures that the equipment cannot be restarted until the cable-pull switch reset has been actuated.
Typical Applications
The ZQ900 is ideal for replacing multiple, discrete E-stop pushbuttons or achieving a continuous, immediately accessible emergency stop … especially where space is limited. Typical applications include conveyor lines, textile machinery, packaging machinery, and transfer lines.