Miniature Guideways Available With Long Lengths
Featured Product from Schneeberger Inc.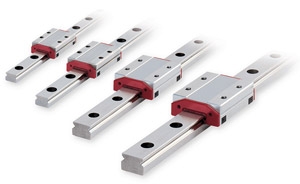 Schneeberger, Inc. announced longer length capabilities for their line of precision linear guideways known as MINIRAIL. Available in four standard sizes: 7, 9, 12, and 15, Schneeberger also offers four additional sizes of: 14, 18, 24, and 42 in a wide MINIRAL version. Two accuracy grades and two preload categories are available.
New maximum lengths are as follows:
Standard Sizes
MN 7
MN 9
MN 12
MN 15
New Max Length (in mm)
760
935
945
950
Wide Sizes
MN 14
MN 18
MN 24
MN 42
New Max Length (in mm)
740
950
950
950
The Schneeberger MINIRAIL series is a family of robust, two-row miniature guideways made from stainless steel, ideal for compact environments. An advanced ball-retainer design simplifies installation and maintenance, reducing total cost of implementation and increasing application versatility. Typical applications can be found in the microelectronics, semiconductor, metrology, automation, Medical/Pharmaceutical, Life Sciences and other industries.
Unlike many conventional miniature guides, the MINIRAIL carriage can safely be removed from its guide without balls falling out and is also interchangeable. This makes handling and installation fast and easy. The large number of load-bearing balls provide the carriages with high permissible load values and torque. Each carriage includes wipers on each end to prevent contamination and help retain lubricant inside the carriage. Schneeberger offers its own re-lubrication set as well. Two lubrication ports are located at each end of the carriage for easy lubrication.
Schneeberger MINIRAIL are capable of speeds of 5m/s and accelerations of 300m/s². Typical operating temperatures are -40°C to +80°C. Short-term temperatures up to 120°C are possible.