Reduce Costs w/MINISCALE Integrated Measuring
Featured Product from Schneeberger Inc.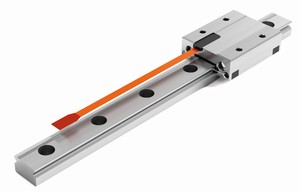 In today's fast turning world, products have to be developed and produced in no time to beat competitors and to be up to date on the market. MINISCALE provides a lucrative solution to this challenge being an all-in-one solution.
MINISCALE offers the measuring process directly on the rail using an 0.1 micron optical sensor integrated in the carriage. This reduces engineering costs, as well as the Abbé error. Extra surface preparation and additional components, such as brackets and linear encoders are no longer needed. Alignment time for the different components during the assembly cease to apply and no additional space requirements are necessary other than the standard miniature guide way.
MINISCALE achieves a lifetime of over 100000h MTTF allowing machines to run for over 10 years 24h/day without replacements needed.
MINISCALE now available with encoded lengths up to 1,000 mm.
MINISCALE can be used in various applications:
Optics
Measuring systems
Pick and place machines
Robots
Biotechnology
Microscopes
Life science
Small machine tools
Packaging or simple stages
Download the Miniscale Catalog for additional information.