Schneeberger Standard and Customized Racks
Featured Product from Schneeberger Inc.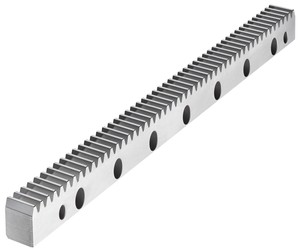 Schneeberger offers standard gear racks of any cross-section up to module 16 with metric or module pitch, with helical or straight gears. The maximum single piece length is 3000mm. Multi-piece butt jointed rails can be ordered for longer lengths. The teeth can be milled or ground, and can be delivered in several hardness grades, depending on the application and duty requirements. Unhardened, inductive hardened, or case hardened gear racks are available. The best gear quality offered is Q5 (individual adjacent tooth pitch error, fp=0.006mm; cumulative pitch error Fp=0.020mm per 300mm).
Customized racks can be produced according to customer drawing.
We sell competence and know-how, not standard products!
Download the Gear Rack Catalog for additional information.