Robust metal tactile switch with 16 mm mounting
Featured Product from Schurter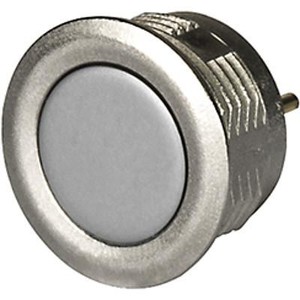 The MCS tactile switch series with 16, 19 and 30 mm diameters offer a simple design, yet a highly durable construction. The metal housing and actuator encapsulate a base switch with completely sealed contacts, rated IP67. Mounting to the chassis is also rated IP67 with an o-ring secured by a hex nut. The slightly recessed actuator provides protection against inadvertent actuation, while also featuring an anti-jam short travel of 0.4 mm with a max. force of 5 N. The lifetime rating is one million operations. Switching current is max. 125 mA. Switching voltage is min. 4 VDC, max. 48 VDC. Impact resistance is rated IK06.
The housing of the MCS16 is made of zinc-die-cast. Actuators are also zinc-die-cast or stainless-steel. The stainless-steel actuator allows for laser marking, which includes a host of standard options or customer specified graphics. Actuators are available with red or green integrated point illumination; other colors available on request. Terminal options include pins for PCB mounting, pins with a solder aid, or a terminal block for screw connections.
The versatile MCS series makes a great solution for cost sensitive applications, ranging from point of sale terminals, ticketing dispensing, vending machines, emergency call boxes, as well as industrial control panels, security controls, medical and audio equipment.