Thermal circuit breaker, TA36 with modern design
Featured Product from Schurter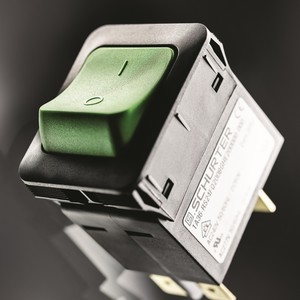 SCHURTER announces its new TA36 thermal circuit breaker boasting of a modern scupted rocker switch and bezel, while sporting a host of contemporary colors to choose from.
Equipment designers have become increasingly aware of the need to create products that are not only superior in functionality, but also present compelling aesthetics. Function and quality matter, but designers must also factor in the attractiveness of the equipment to the end user. A circuit breaker is a component that falls under such scrutiny. SCHURTER's new TA36 combines gently curved surfaces made of the best materials, to provide pleasing visual indication and a great switch feel. The series offers seven trendy actuator colors, and three bezel colors, which can be mixed or matched. A selection of five different markings in black, white or embossed complement the offering.
The new TA36 family functions as an appliance switch and thermal overcurrent protection device. Impressively compact, the series offers 1-pole switch with overcurrent protection, and 2-pole switch with 1-or2-pole overcurrent protection. There are 31 different rated currents, 0.05A to 20A. Operating temperature range is -30°C to +60°C. Units are calibrated at +23°C with correction factor data provided to guide selection in lower and higher ambient conditions. The series is built to UL 1077 & CSA C22.2.235 and is cURus approved up to 277 VAC, 32 VDC (1-pole) / 60 VDC (2-pole). It is also VDE approved at 240 VAC and same VDC ratings according to IEC 60934. CCC approval is pending. The TA36 provides snap-in mounting by way of serrated snappers for a range of panel thicknesses. Terminals are quick-connect size 6.3 x 0.8 mm.
Especially suited for 277 VAC LED Lighting applications in the U.S., other applications for the TA36 include industiral appliances, HVAC, tools and construction equipment, cleaning equipement, commercial and household appliances, and medical equipment.