Dust Collector Retrofit
Featured Product from Scientific Dust Collectors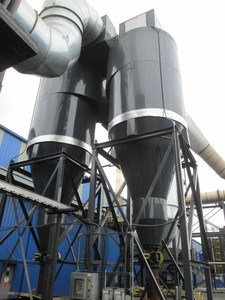 Scientific Dust Collectors has just announced a new retrofit system designed to improve the cleaning systems in all existing baghouse dust collectors. This cleaning system improvement can be applied to all reverse pulse jet baghouses for all baghouses brands. If the blowpipes can be removed, then the Scientific Dust Collector supersonic nozzles can replace the old cleaning systems.
The benefits of this retrofit include the ability to eliminate the flow restricting venturi at the top of the filter bag, lower system operating pressure by reducing pressure drop as much as 2" WG, and superior bag cleaning by inducing more than three times the amount of cleaning air into the filter media than other generic baghouse designs. This superior cleaning of the entire filter provides a longer filter life.
By using our superior cleaning technology, Scientific Dust Collectors offers price competitive dust collectors without having to resort to cost cutting elimination of valued constructional features, quality and the attention to detail we believe you deserve.
Very reliable dust collection using a more compact collector that saves space.
Wide selection of fabric types for any dust application.
Fewer bags, valves and cages to maintain.
Less wear and tear on the filtering media.
Lower system pressure drops.
Ability to handle high dust loads without the need for a cyclone precleaner.
Greater ability to recover should the bags become blinded due to dust surges, moisture, loss of compressed air or other unexpected interruptions that occur in real life.