Low Flow Bottom Removal Dust Collector
Featured Product from Scientific Dust Collectors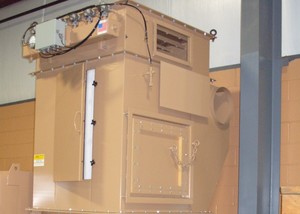 Scientific Dust Collectors' newest Supersonic Pulse Jet Low Flow Bottom Removal (SPJ-BL) Collector is economically designed for low-flow applications (less than 5,000CFM) and low static pressure (less than 14" SP). It utilizes the patented supersonic nozzle cleaning system as well as a high-side inlet so that the heavier dust falls out of the air stream. These features allow the collector to operate at higher air-to-cloth ratios, lower pressure drops, and provide longer filter life.
?
STANDARD FEATURES
Patented Cleaning Nozzle Technology.
High Side Baffled Inlet with drop out area.
Wide bag spacing: 2.5" – 3" between bags.
12 gauge hot rolled steel housing, reinforced to withstand ± 14 IWC.
Compressed air required: 90-100 psi. Must be clean and dry.
Designed for Indoor/Outdoor use.
Solid state timer pre-wired in NEMA 4 enclosure (110 V).
55° hopper with square discharge, flanged and pre-drilled for auxiliary equipment.