Electrical Slip Ring Rotary Union Assembly
Product Announcement from Scott Rotary Seals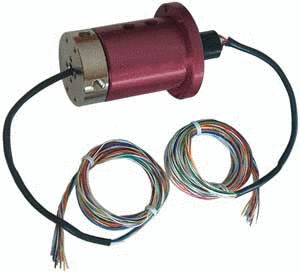 SRS's electrical slip ring options provide versatility and value for today's complex equipment requirements.
This assembly consists of a SRS rotary union that includes an integrated electrical slip ring. SRS offers a number of standard slip ring options which are useful for power, signal and data transfer. In addition to the standard slip rings listed below, SRS can also supply complete assemblies with custom slip rings ranging from high to low current designs with ultra low electrical noise.
For applications that are demanding or in wet environments, many assemblies are available with sealed protective covers. These covers can also include IP67 rated pin style connectors if needed; please contact your SRS sales representative to discuss the specifics of your application.
Slip Ring Features:
High quality gold on gold contacts
Low electrical noise
Compact size
Transfers analog and digital signals
Compatible with data bus protocols
Standard designs with up to 56-circuits
Custom designs with 100+ circuits
Please contact SRS to discuss your specific slip ring requirements.
---