Scott's AV-3000 facepiece with SureSeal system
Product Announcement from Scott Safety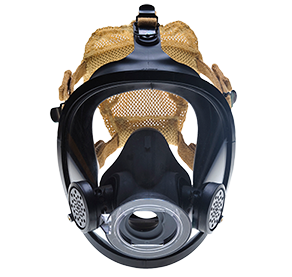 Scott's new AV-3000 facepiece with SureSeal system combines superior fit with greater comfort for users of respiratory protection equipment. It combines the best features of the Scott AV-3000 facepiece with a patent-pending U-shaped seal design, called reverse reflex, that allows the SureSeal system to flex with every movement of the facepiece, resulting in a higher fit factor and a more comfortable seal.
A fifth strap adds another point of connection to improve sealing capabilities. A primary feature of the SureSeal system includes a deeper, lower-profile seal that offers a more robust interface with protective suits, hoods, shrouds and helmets.
Additionally, the smaller Kevlar® or Poly head harness design eliminates bunching and discomfort under helmets and hard hats. For proper and quick donning, a positioning tab is located on the back of the head harness.
The AV-SureSeal facepiece is offered with in three sizes. The SureSeal faceseal can be ordered to retrofit AV-3000 facepieces with Kevlar® head harnesses currently in use.
---