Low Profile PCI Express Digital I/O Adapter
Product Announcement from Sealevel Systems, Inc.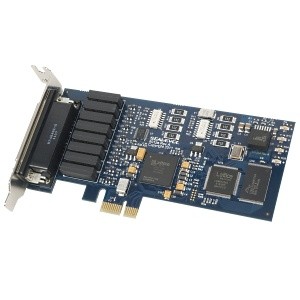 PRODUCT HIGHLIGHTS
8 optically isolated inputs & 8 Reed relay outputs (SPST)
Optically isolated inputs protect host from spikes and surges
Wide 3-30VDC input range
Highly reliable Reed relays are ideal for low current applications
Compatible with low profile and standard height PCI Express slots
Sealevel Systems. Inc. introduces the DIO-16-LPCIe low profile PCI Express digital I/O interface adapter. The DIO-16-LPCIe provides 8 optically isolated inputs and 8 Reed relay outputs, perfect for a variety of monitoring and control applications. Sealevel PCIe serial and digital I/O boards are PCI Express X1 compliant and will work in any PCIe slot. Software for standard PCI boards will also work with PCI Express boards, simplifying your transition to this next-generation bus.

The non-polarized, isolated inputs on the DIO-16-LPCIe are rated for 3-30VDC and protect the PC and other sensitive equipment from voltage spikes and ground loop currents that are common to industrial environments. The outputs provide high quality, long-life, dry contact switch closures suitable for switching up to 500mA. The Reed relays are normally open and close when energized. Sealevel software drivers and utilities make installation and operation easy using Microsoft Windows operating systems.

The DIO-16-LPCIe (Item# 8012e) is available immediately from stock. The 8012e is for use in low profile PCI Express slots. If you have a standard size PCI Express slot, order the 8012eS. Like all Sealevel I/O products, the DIO-16-LPCIe is backed by a lifetime warranty.
---