Rugged and Industrial USB 2.0 Hubs
Product Announcement from Sealevel Systems, Inc.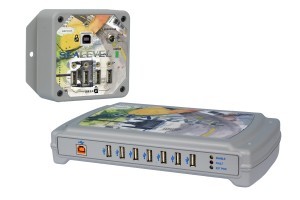 PRODUCT HIGHLIGHTS
• Rugged USB 2.0 hub designed for industrial applications
• SeaLATCH™ locking USB connectors on 4-port model
• Native support in USB aware operating systems including Windows & Linux
• Operates over wide temperature range
• Long term product availability

"Our customers report almost daily that USB is growing rapidly in industrial applications," declares Earle Foster, VP Sales and Marketing at Sealevel Systems. "Our industrial USB hubs are designed for rugged applications requiring wide operating temperature range and long term product availability not found in commercial USB hubs."

Both the 4-port (Item# HUB4P) and 7-port (Item# HUB7P) versions are USB 2.0 compliant, providing a full 480M bps data rate to the host, and are backwards compatible with USB 1.1 and 1.0 devices. Each includes a convenient wall-mount AC adapter that supplies a full 500mA to each attached USB peripheral.

The HUB4P integrates patent-pending SeaLATCH locking USB ports that are fully compatible with standard USB cables. When used with the included SeaLATCH USB host cable, the metal thumbscrew provides a secure metal-to-metal connection to the hub and prevents accidental disconnection of the USB cable. Both the upstream USB type "B" connector and four downstream type "A" connectors can be secured by using SeaLATCH USB cables.

The HUB7P utilizes seven type "A" connectors and includes an innovative high-retention USB type "B" connector that helps prevent unintentional separation of a standard USB cable. Status LEDs indicate external power, connection to the host, and fault conditions.

Both hubs are housed in rugged, attractive plastic enclosures and operate from 0° to 70°C. The HUB4P is ideal for mounting on walls, under counters, or inside panels. Optional clips are available for mounting to standard 35mm DIN rail. The HUB7P conveniently stacks together with Sealevel's SeaDAC digital I/O data acquisition modules.

Supported in Windows, Linux, and other USB aware operating systems, both products are easy to install and require no separate drivers. Simply power the hub using the included power supply, plug the hub into an available USB port, and then the hub is automatically recognized by the operating system.

The HUB4P is available from stock and prices start at $159. Extended temperature versions and OEM versions without enclosures are available. All Sealevel manufactured I/O products are covered by a lifetime warranty.
---