SeaI/O – Distributed Data Acquisition Solutions
Product Announcement from Sealevel Systems, Inc.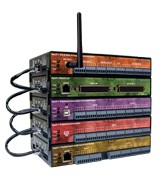 Sealevel's SeaI/O data acquisition modules provide powerful digital, analog, and serial expansion to any computer. Connect to the host via wireless, Ethernet, USB, RS-485, or RS-232 to add the functionality required for your particular application. Multiple units can be daisy chained using convenient pass-through connectors to create a versatile distributed control and monitoring network. For ease of installation, multiple modules can be combined in a local stack or separated up to 4000 feet using the RS-485 Modbus RTU expansion interface. SeaI/O modules offer:

> Powerful software configuration & diagnostic tools
> Address selectable via software or switch
> Easily daisy chain multiple units
> Selectable RS-485 line conditioning
> Flexible mounting options
> Modbus TCP and Modbus RTU compatible

Choose from a variety of I/O configurations, each designed for maximum flexibility and easy field wiring. For quick software implementation, application programs or third-party software can use Sealevel's SeaMAX libraries or industry-standard Modbus protocol.
---