SeaLINK Ethernet Serial Servers
Product Announcement from Sealevel Systems, Inc.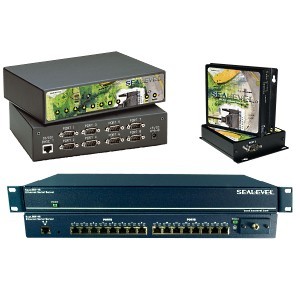 Product Highlights
Choose from 1, 2, 4, 8 and 16-port serial servers
Serial ports on multi-interface versions are individually software configurable for RS-232, RS-422 or RS-485
Easy to locate on the network and configure using interactive web and PC-based utilities
Serial ports appear as virtual COM ports to the host computer
Each port capable of sustained data rates to 230K bps
Automatic RS-485 enable/disable
Support for serial tunneling, custom baud rates and 9-bit protocol
Built-in watchdog reset circuit for fault tolerance
Sealevel SeaLINK® Ethernet serial servers offer the easiest way to connect serial devices to your Ethernet network. Available in one to sixteen port versions, each serial port can be individually software configured for RS-232, RS-422 or RS-485, enabling connectivity to a variety of devices including point-of-sale devices, data acquisition and monitoring equipment, and PLCs. Legacy serial equipment never intended to be LAN/WAN compatible can now easily communicate over Ethernet. Designed using a powerful embedded microprocessor, SeaLINK serial servers can communicate over multiple ports at sustained data rates up to 230K bps.

SeaLINK serial servers use industry standard TCP/IP protocol for maximizing compatibility with the widest range of applications and devices. Sealevel's SeaLINK software drivers and utilities make installation and operation easy using Microsoft Windows operating systems. After software installation, the serial ports on the SeaLINK device appear as virtual COM ports to the host machine.

Standard serial operating calls are transparently redirected, guaranteeing compatibility with legacy serial devices and enabling backward compatibility with existing software. SeaLINK serial servers support serial tunneling, which allows two native serial devices to communicate over a network without a computer. Raw data socket mode is also supported, eliminating the need for a driver.

To allow easy mounting close to the target serial device, several options - including DIN rail - are available. Sealevel SeaLINK serial servers are available from stock. Call for extended temperature models and to inquire about other options.
---