USB to Isolated Serial Adapters w/ Locking USB
Product Announcement from Sealevel Systems, Inc.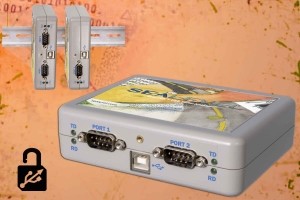 Product Highlights
One or two RS-232, RS-422, or RS-485 ports
Isolation protects host computer from damaging voltage spikes and surges
Innovative SeaLATCH™ locking USB connector design prevents accidental cable disconnection
Convenient DIN rail mounting
Sealevel Systems, Inc. announces two additions to the popular SeaLINK USB serial product line, the SeaLINK+I.DIN (Item# 2113) and the SeaLINK+2I.DIN (Item# 2213). Offering designers the choice of one or two serial ports, SeaLINK serial devices are the perfect way to connect peripherals such as barcode scanners, serial displays, and data acquisition modules to any USB port. Each DB9M serial port is configurable for RS-232, RS-422, or RS-485 via dip switches accessible through the case, and optical isolation protects the host computer from damaging voltage surges and ground loops commonly found in industrial and OEM applications. For maximum reliability, each adapter includes Sealevel's SeaLATCH™ locking USB connector design that prevents accidental cable disconnection.
Installation and setup is easy. Simply install the included software and then connect the serial adapter to your USB port. SeaLINK serial ports appear as standard COM ports to the host system enabling compatibility with legacy software. SeaLINK serial adapters are USB bus powered eliminating the need for external power supplies. Status LEDs display transmit and receive activity, and SeaLINK serial adapters support data rates to 921.6K bps.
For convenient mounting, SeaLINK serial adapters include a removable plastic clip that snaps onto 35mm DIN rail. The clip can also be attached with screws to a wall, under a counter, or to any other flat surface. Standard SeaLINK adapters operate between 0°C to 70°C and designers can special-order extended temperature (-40°C to +85°C) adapters.
---