BATCHING
Featured Product from SEEPEX Inc.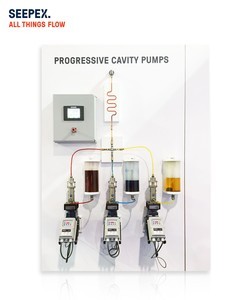 Intelligent Metering
Installation of a SEEPEX Intelligent Metering Pump is no more complicated than a typical home stereo. SEEPEX Intelligent Metering Pumps integrate gear reducers and SMART programmable vector drives with progressive cavity pumps. Program parameters are factory loaded onto a memory chip, which makes duplication fast and easy. A 4-20 mA process signal can be connected via a terminal strip inside the control box. Several optional control modules are available, which allow manual (potentiometer) and digital speed control. They also allow H-O-A selection, display of pump speed/RPM or flow and allow you to program your own parameter settings. The gear box provides the unit with strong torque capability across the entire speed range. Unlike DC units, this unit has excellent speed control even in areas, like agricultural or oil production fields, where input line voltages vary. There is also no concern for contamination or maintenance caused by the wearing of commutator brushes.
PLC integration
Nema 4 enclosure
Manual speed potentiometer
Turk connectors for 4-20 mA process control devices
On/Off switch
Energy Saving drive
Fault indicators
Network connection
APPLICATIONS:
BATCHING
BLENDING
CONTINUOUS METERING
PORTIONING
Drives can be correlated to a signal to inject chemicals for disinfection, flocculation or multiple component blending. It can also follow a signal from load cells on tanks or capacitance probes in volumetric fillers to maintain a set level.
All things flow.
Technology, service, solutions – all things flow and change. Even a great company can grow more each day.
SEEPEX is a leading worldwide specialist in pump technology. Our progressive cavity pumps, macerators and control systems are used wherever low to highly viscous, aggressive or abrasive media must be conveyed at low pulsation rates – we keep everything flowing. Customers choose us because we offer excellent, reliable and cost-efficient solutions.
A passion for solutions.
Consulting means more to us than simply recommending a pump. We look for solutions that help our customers get ahead.
But how do you develop a previously unheard-of solution? The key to our success lies in closely working with our customers to develop solutions for them that optimize their system, boost their productivity and lower their operating costs.
Our Service Solutions
Did you know? Normally a pump's purchase price only makes up 5-10% of the life cycle costs. The much more significant costs are incurred with downtimes, energy consumption, maintenance and repairs. And this is where our first-class service comes into play.
SEEPEX pumps operate reliably and with minimal maintenance work. In addition, we offer various services for your pump that ensure long-term value, guarantee optimal operation and minimize life cycle costs.
Comprehensive consulting for the pump's entire service life
We provide professional consulting and effective support in all stages of your pump's service life:
We supply high-quality SEEPEX original parts and guarantee short delivery times.
We offer 24-hour helpline support.
We provide SEEPEX services in over 70 countries.
For your company and your SEEPEX pump this means:
Decreased life cycle costs
Long-term value preservation
Sustainable quality assurance
Lower follow-up costs for maintenance and repairs
Increased profitability and efficiency
Service Training
For a long and economical pump service life: In service training, we provide extensive theoretical and practical knowledge. You will learn first-hand how to extend your SEEPEX pump's service life and minimize follow-up costs for maintenance and repairs.
Available for:
Customers and service partners
Training for Distributors
We have developed training courses for our distributors that further expand their high-level qualifications in conveying technology. Their increased knowledge and our successful collaboration support our partners' business success.
Available for:
Distributors and technical sales people