Barrier Packaging
Product Announcement from Select Fabricators, Inc.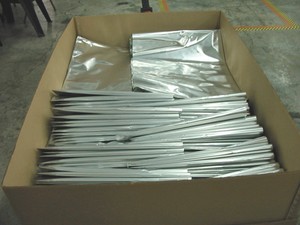 Select Fabricators manufactures packaging that protects items placed inside from external forces and/or to keep the items themselves from leaking to the outside environment. To determine what type of barrier packaging is needed, follow these easy steps
Decide what barriers are necessary. SFi makes barrier packaging with the following characteristics:

Environmental protection including dust, water, oxygen, salt, and light
Moisture vapor
EMI shielding
Static Control
UV protection
Corrosion protection.
Materials will be recommended based on barrier characteristics specified, unless otherwise requested.
Bags, covers and shrouds can all be used to protect products, equipment and projects. SFi works with customers to provide both one-of-a kind solutions or mass production quantities of the packaging construction that best fits the application.
Custom/Contract/Flexible Packaging
Contamination Control
Hazardous Waste Disposal
Gas Sampling
Military Packaging
Nuclear Packaging
Protective Packaging for Critical Components
Shipping Protection
Select Fabricators, Inc. has an experienced 'design for protection' team that works with a customer from concept drawing to determine the most efficient packaging from the manufacturing stage through delivery to the end user.
Using a detailed process that analyzes specifications for cleanliness, exposure to air, chemicals and water, as well as transportation needs, SFi will deliver a turnkey or in-house contract manufacturing solution. The process typically follows this pattern:
1. Application Analysis
2. Manufacturing and Packaging Environment Analysis
3. Material and Equipment Selection
4. Qualification
5. Installation
6. Validation
Materials Available
Bubble Pack
Linear Low Density Polyethylene (LLDPE)Co-Extrusion
Low Density Polyethylene (LDPE)Conductive
High Strength/Barrier Films & Laminates
Custom Laminates
Photo Black
Composition Materials
Static Dissipative
Flexible Foam
Static Shielding
Mono-Films
VCi & VPI for Corrosion Control
---