RF / EMI Shielding Pouches
Product Announcement from Select Fabricators, Inc.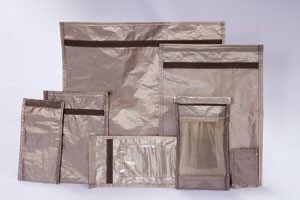 Select-a-Shield™ RF/ EMI Shielding Pouches secure portable transmitters from RF & microwave interference and/or emissions. Lightweight and flexible, these pouches are made to attenuate and reflect signals from entering or leaving electronic devices. Select-a-Shield RF/EMI shielding pouches are US made with a double layer conductive silver/copper/nickel RoHS compliant material. Base material has average shielding effectiveness of -85dB in the range of 30 MHz to 1 GHz and an average 80dB in the range of 1 GHz to 11 GHz.
Ideal for:
Commercial Wireless
Industrial Wireless
Automotive
Aerospace & Defense
Cellular Forensics
Computer Forensics
Homeland Security
Law Enforcement
Military
RFSP model

Applications: Electronic car keys, RFID devices, credit cards
RFSP-Cell model

Applications: Portable devices such as cell phones, pagers, iPhones, Blackberry
RFSP-PDA model

Applications: PDAs, Blackberry, iPhone, passports, GPS navigation units
RFSP - Tablet X2 model
Applications: Mobile tablet devices, multiple cell phones PDAS, iPads, tagged documents
RFSP - NOTEBOOK X2 model

Applications: Notebook Computers, Multiple
Cell Phones, Multiple PDAs, Blackberrys, iPhones, Ultra-Mobile PCs
RFSP C model

Custom Sized to application from 1.53" x 3" to 48" x 48"
Options:
single or double layer construction,
clear plastic card pouch,
hanging loop,
sports nylon exterior,
RF shielding window
---