ToughSonic 30 Ultrasonic Sensors
Featured Product from Senix Distance and Level Sensors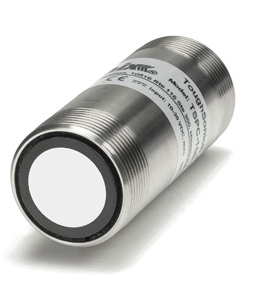 ToughSonic 30 ultrasonic sensors have a maximum range of 30 feet (9.1 meters). Like all Toughsonic sensors, they are built for durability and ease of use in tough industrial environments. ToughSonic 30s are fully immersible, corrosion resistant, shock resistant and all around tough. They are also fully configurable with SenixVIEW configuration and analysis software.
The 1.5 inch (38.1 mm), type 316 stainless steel housing has 1.5 inch NPT threading on each end and a smooth middle section for a variety of mounting options. The ToughSonic 30 has a 9-wire, permanently attached cable that allows up to six simultaneous serial data, analog and/or switch outputs. These workhorse sensors are used around the world in remote liquid level applications and other non-contact distance applications in harsh factory environments.
The ToughSonic family of sensors includes a variety of ranges and models designed for general purpose use, remote liquid level monitoring and corrosive chemical level measurement.