ToughSonic 3 Ultrasonic Sensor
Featured Product from Senix Distance and Level Sensors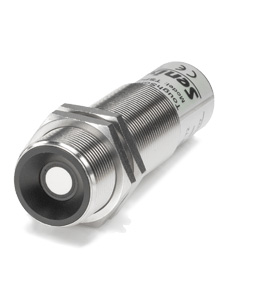 The ToughSonic 3 ultrasonic sensor has a maximum range of 3 feet (91 centimeters). This short range sensor has the same 30 millimeter stainless steel housing as the ToughSonic 14. It features a short 1.75 inch (4.5 centimeter) minimum range and a narrow ultrasonic beam width for measuring in tight spaces. And, like all ToughSonic sensors, it's built for durability and ease of use in tough industrial environments. It's fully submersible, corrosion resistant, shock resistant and all around tough. It's also fully configurable with our SenixVIEW software or with our famous "Teach" feature for push button configuration.
This sensor was designed for applications where the ToughSonic 14's larger minimum range and/or wider ultrasonic beam prevents its usage. If your application can accept the ToughSonic 14's operating parameters, we recommend that you use it. If you need a smaller minimum range or smaller ultrasonic beam size, then the ToughSonic 3 is an excellent alternative.
The ToughSonic family of sensors includes a variety of ranges and models designed for general purpose use, remote liquid level monitoring and corrosive chemical level measurement.