Hermetic Snap-Acting Pressure Switch
Featured Product from Sensata Technologies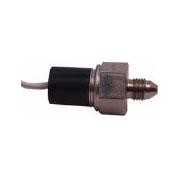 KLIXON® 6PS series stainless steel pressure switch is a snap-acting, all-welded device with hermetically sealed switch contacts. All switch components that are exposed to the fluid stream or external environment are made from 300 series stainless steel or brass to ensure maximum corrosion protection.
The design utilizes the snap-action disc in tandem with the snap-action switch contacts to provide full contact force even during high shock and vibration regardless of applied pressure. These properties, when combined with the small size and lightweight, provide incredible flexibility of design. Sensata currently offers over 1,000 existing 6PS package designs.

KLIXON® 6PS pressure switches provide low oil pressure indication on multiple commercial aircraft, including Boeing 777 and 787, Airbus A350, Bombardier C-Series, and others. Other applications include pressure indication for the gas and oil industry and nuclear power plants.
Features:
Hermetically sealed per MIL-E-5400 paragraph 6.3.10
Covers actuation range of 45 to 700 PSIA
Maximum corrosion resistance under hostile conditions
300 series stainless steel construction for all environment exposed parts
Stainless steel and brass construction for media exposed parts
High vibration resistance
8000 psi minimum burst pressure
SPDT switch configuration
Available in a wide range of standard and custom configurations