CSA & BASEEFA hazardous area certifications
Product Announcement from Senscient Inc.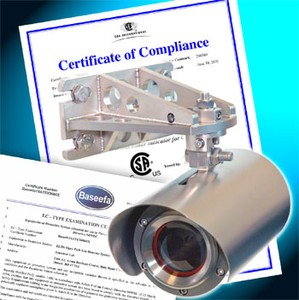 Senscient received two certifications this June for its ELDS Open Path Gas Detectors (OPGD) in potentially explosive or hazardous environments. Both CSA and BASEEFA certificates apply to ELDS 2000 and 1000 Series detector transmitter and receiver units.
The Certificate of Compliance from independent product testing and certification organization CSA International certifies the Senscient line of ELDS Open Path Gas Detectors (OPGD) for use in hazardous locations in the US and Canada. This CSA certificate assures compliance to CSA and UL standards for hazardous locations/zones and product safety.
The BASEEFA 10ATEX0066X certification covers the same ELDS detectors for use in "potentially explosive atmospheres" for ATEX (Europe).
ELDS is designed to provide new levels of plant safety and risk reduction in offshore platforms, FPSOs, onshore petrochemical facilities and refineries in addition to other industries with toxic or flammable gas hazards.
The CSA North America and BASEEFA ATEX certification are the latest in a string of independent third party certifications covering product safety, use, application, and manufacturing.
Previously, Senscient ELDS Open Path Gas Detectors received both the FM Global and FM ATEX International Performance Certification that ensures ELDS open path gas detectors are capable of detecting hazardous gases over a specified line of sight coverage to LEL.meter standards, and triggering isolated multi-channel analogue output signals to a remote Safety PLC. With completion of these two Performance Standards, the new ELDS OPGD became the FIRST and ONLY laser-based open path gas detector line to be certified to the highly challenging international Performance Approval Standards, clearing the way for ELDS use in systems requiring Safety Integrity Level (SIL) compliance around the world.
The Senscient factory in Poole, UK has also been audited and approved by FM Global for its quality and manufacturing practices.
About Senscient Inc.
Senscient was established in 2004 to develop, manufacture and market advanced gas detection products for industrial safety, environmental monitoring, and process analysis applications. Senscient's patented Enhanced Laser Diode Spectroscopy™ technology solves major problems associated with traditional NDIR-based fixed gas detectors by eliminating routine re-calibration, sensor replacement, unreliable readings and false alarms that cost industries millions of dollars in lost revenue annually.
---