Gas Detection of FPSO Turret Vent Gases
Product Announcement from Senscient Inc.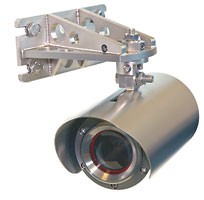 New Senscient ELDS Gas detectors feature simultaneous, discreet H2S detection at 0-15,000 ppm. Meter and methane detection at 0-1 LEL. Meter within pressurized purge and vent valves atop an FPSO's Turret. Even though a planned part of a normal operation, gases released can be a danger to FPSO personnel on deck.
Senscient is pleased to announce a new product configuration for high level H2S detection and monitoring. The primary application motivating this new configuration is the need for continuous reliable monitoring of FPSO turret vent gases. We realize and appreciate that our customers are the best source for the direction of our marketing and product development efforts.
Series 2000 ELDS OPGD for Hydrogen Sulfide is now available with an Extended Measurement Range of 0-15,000 ppm.m for H2S gas detection and monitoring. The application cited for this extended range capability is to continuously monitor the effluent from a series of pressurized Purge and Vent valves at the top of an FPSO's Turret. The venting of gases from the turret valves is a planned and consistent operation for the FPSO. And the level of H2S gas exiting these venting valves, if located anywhere within the vicinity of the FPSO personnel, could in fact be of very high concentrations immediately dangerous to their personnel.
These Series 2000 ELDS OPGD systems are being installed at the Turrets of these FPSO facilities where H2S is vented on planned schedules throughout their drilling operations. Levels upwards of 5,000 to 10,000 ppm have been reported in the vented gases. These installations are SHORT distance of as little as 3.5-6 meters and require an extended measurement range for ELDS of 0-15,000 ppm.m over their approximately 5 meter beam path.
In addition to the planned venting of H2S gases, a separate purge valve at one end of the Turret may be present that has the potential for slow leaks of vent gases with both methane and H2S present in as much as a 50/50 ratio.
In response to this identified application, Senscient now offers the extended measurement range for H2S detection of 0 to 15,000 ppm.meter in both the Series 2000 ELDS system for H2S and the Series 2000 ELDS OPGD for simultaneous and discreet dual gas measurement of both H2S and Methane. These extended measurement range OPGD systems have the same advanced technology features and benefits as any of our other ELDS product offerings, with confirmation that by increasing the measurement range, the systems perform with the same or better accuracy and tolerance of misalignment and obscuration as our standard system configurations.
Please check with your local Senscient representative or contact Senscient at info@senscient.com for additional detail.
---